The Great WOW!! Pak
$129.99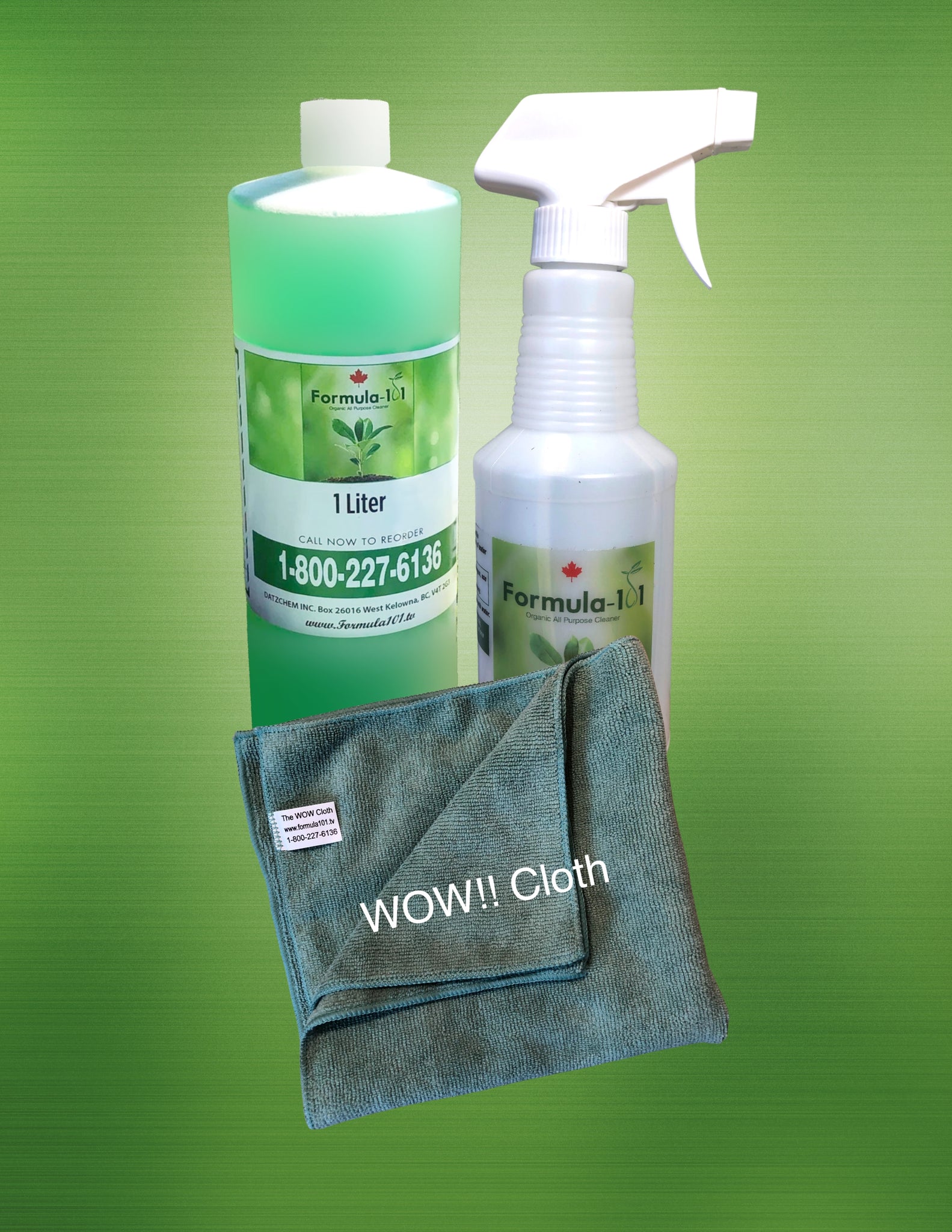 Meet the Formula 101 system, your natural, environmentally friendly, alternative to toxic household cleaners.  
✅ Simple and Easy-to-use. The super-concentrated formula reduces your plastic footprint.
✅ Effective. The superior stain removing power can be used to remove hard-to-shift stains such as oil, grease, calcium, hard water stains and ground-in dirt.
✅ Multi-purpose. can be used on anything in the home, office or vehicle, including wooden flooring, carpet, glass, furniture, leather and walls.
✅ 100% natural. No phenols or lead-based colouring.
✅ Non-toxic. Family and pet friendly. 
How does it work?
Using a cleaning product purely from an organic plant based surfactant eliminates the need for toxic chemicals in your home or business. Rather than using toxic chemicals to break down dirt, Formula 101 works on the basis of "coating" grease molecules so they don't stick to anything.
What do you get?
With this cleaning system, you receive a 1 litre bottle of Formula 101 concentrate, a spray bottle to make your cleaning solution and high quality microfibre cloth to enhance your cleaning experience.

Your Great WOW!! Pak includes:
1L Bottle of Formula 101 concentrate - Makes 200+ spray bottles mixed with water!
An Official Microfiber WOW!! Cloth™ 
A High Quality Labeled Spray Bottle
A Detailed Instructional Brochure and Care Guide For Your WOW!! Cloth™
Use Formula 101 Eco Friendly Cleaning System on every surface and stain in your home. Over 50,000 customers can't be wrong!
"I brought this home and thought I'd give it a try, it removed hard water off my chrome taps like nothing, cleaned my walls like children had never touched them, my windows are so clean you can't see them!!!! Love it!!!!!"
Brandy H, Edmonton AB
Order Today! Due to product demand, supplies are limited!
We Guarantee You Will Love The Power of Formula 101
Put our claims to the test and try Formula 101 risk free today. If you are not completely satisfied with the product within 30 days, we will refund every dollar and cover the cost of shipping both ways.
Orders ship within 5 business days.